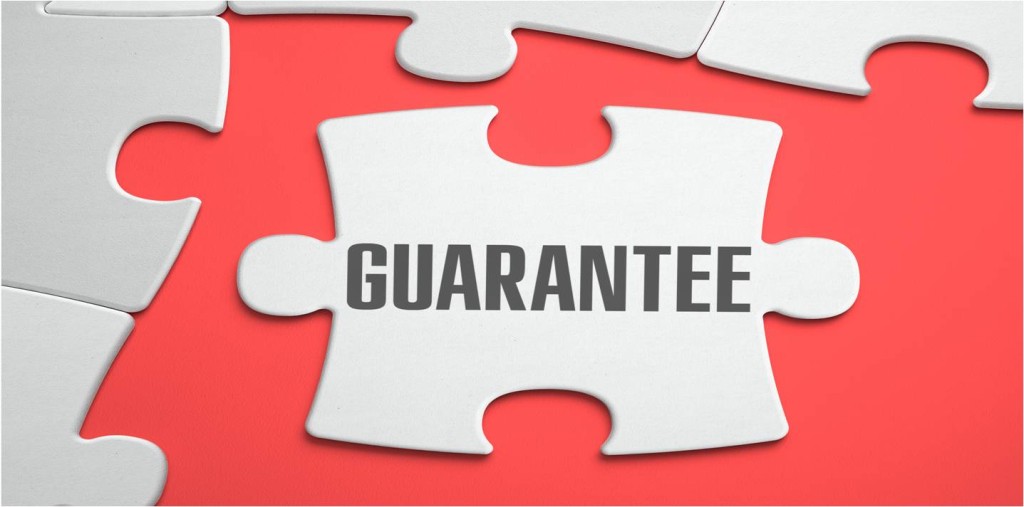 Oh, the guarantee…Wouldn't it be great if we could guarantee everything—like spouse fidelity, our heartbeat, or even our life happiness? Ahh…bliss.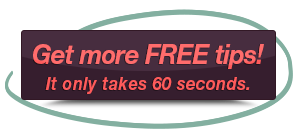 Maybe we can't guarantee those things but if you're a business owner or have something to sell, a guarantee can be a powerful marketing puzzle piece that can have a major impact on your bottom line. I'm always curious why more businesses don't offer guarantees—or if they do, why they don't promote them well.
Guarantees Work…Want Proof?
A Quick Sprout study found that by adding a guarantee to a product, sales increased by 21%!*
"You're going to like the way you look. I guarantee it." The company that used this guarantee since the mid-80s is North America's largest specialty men's clothiers with over 1100 locations. Do you know the name of the store? Tweet it to me.:)
Benefits of Guarantees for Customers and Clients
They have an out: Don't we as customers want an out? A guarantee lets the customer know they can back out free and clear and be made whole.
Eliminates perceived risk: Making any purchase carries risk—from buying the late-night McDonald's chicken nugget combo to a wedding dress. Guarantees eliminate both perceived and real risks.
Lowers buyer's remorse: There's always a little voice in the consumer's mind that tells them maybe they should have made a different choice. A guarantee helps quiet that voice.
Benefits of Guarantees for Businesses
I remember working for a manufacturer and I brought up the idea of creating a guarantee. My boss was immediately terrified. He felt that every customer with a minor defect or made-up defect would want to return the product. I couldn't convince him otherwise.
FACT: At most, 1–2% of your customers will ever take you up on your guarantee.**
Benefits to a business of offering a guarantee:
A boost in first-time customers: If you can eliminate risk, more buyers will give you a second look.
A boost in repeat customers: If your first-time customers have a great experience and you continue to guarantee your work, why would they not buy from you again?
It shows your confidence: Nothing builds confidence in a client's mind better than a guarantee. It's right up there with the testimonial.
You're able to take advantage of a little thing called inertia: Inertia is the resistance of any physical object to any change in its state of motion. Translation: people are lazy. This benefits business.
Five Steps for Creating a Guarantee
Commit to creating one: This may require you to get buy-in from other departments, including your legal counsel and upper management—but the up-front time and results will be well worth the effort.
Think like a buyer: Once you've committed to creating your guarantee, think about being in the market yourself to buy the product or service you sell. What guarantees would you want on your purchase? Work backwards from there.
Once you establish your guarantee, make it longer: Longer guarantees work better than shorter guarantees. For example, a 12-month money-back guarantee can outperform a 30-day money-back guarantee.
Share it: Always get feedback from your best customers and even ask prospects for input.
Promote it: Make your guarantee front and center to everything: your website, landing pages, social assets, on-hold messages, letterhead, invoices, etc.
Examples of Guarantees
Tangible product providers aren't the only ones who can take advantage of guarantees; service providers can too. Something to think about…
"Our guarantee: You only pay when you are 100% satisfied with the service."
"We offer a full year money-back guarantee."
"All work is guaranteed to be completed by XXX date or your money back."
"If you aren't happy with our service, you're entitled to a discount on a future service."
"We guarantee your experience or we'll waive future recurring fees."
What's your favorite guarantee?
* http://www.quicksprout.com/2013/06/27/what-converts-better-free-trial-versus-money-back-guarantee/  
** http://www.businessknowhow.com/marketing/guarantee.htm