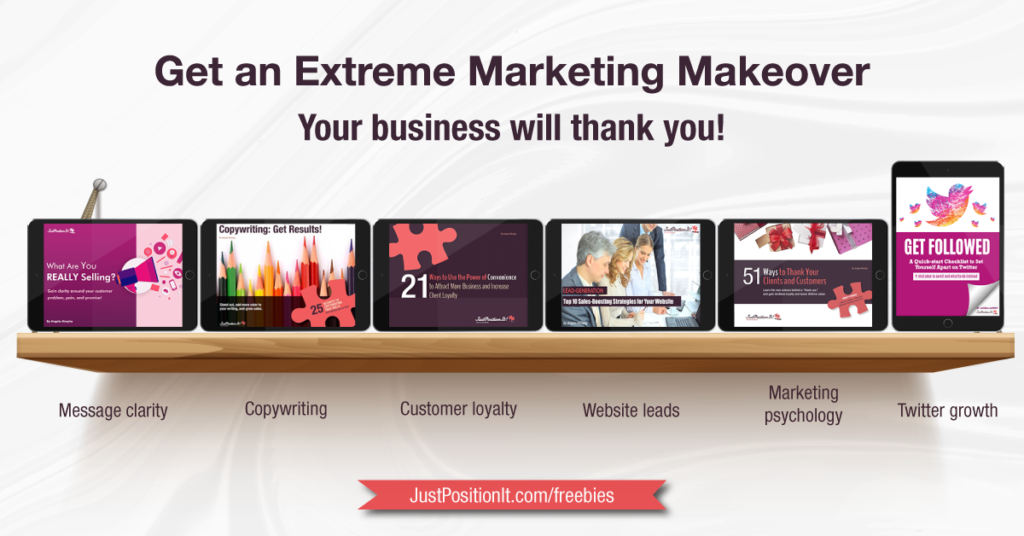 🎁  You made it!  🎁
Don't dare leave without at least taking something for free since you've come this far. I can make your life easier when it comes to your marketing.
Imagine for a second if you didn't have to "go it alone."
Let me ask you…
Is your marketing getting you the results you want?
What are you doing to turn your website into a lead generation factory while you get your zzzzzs?
Is your copywriting setting your business apart in a sea of sameness?
Are you at risk of losing your best customers never to see them again?
Is your social media deader than a doorknob?
Review the library of free marketing resources, just for you, that offers in-depth eBooks, checklists, worksheets, and more to attract and keep your customers.
NEW VIDEO SERIES
Tips to Thrive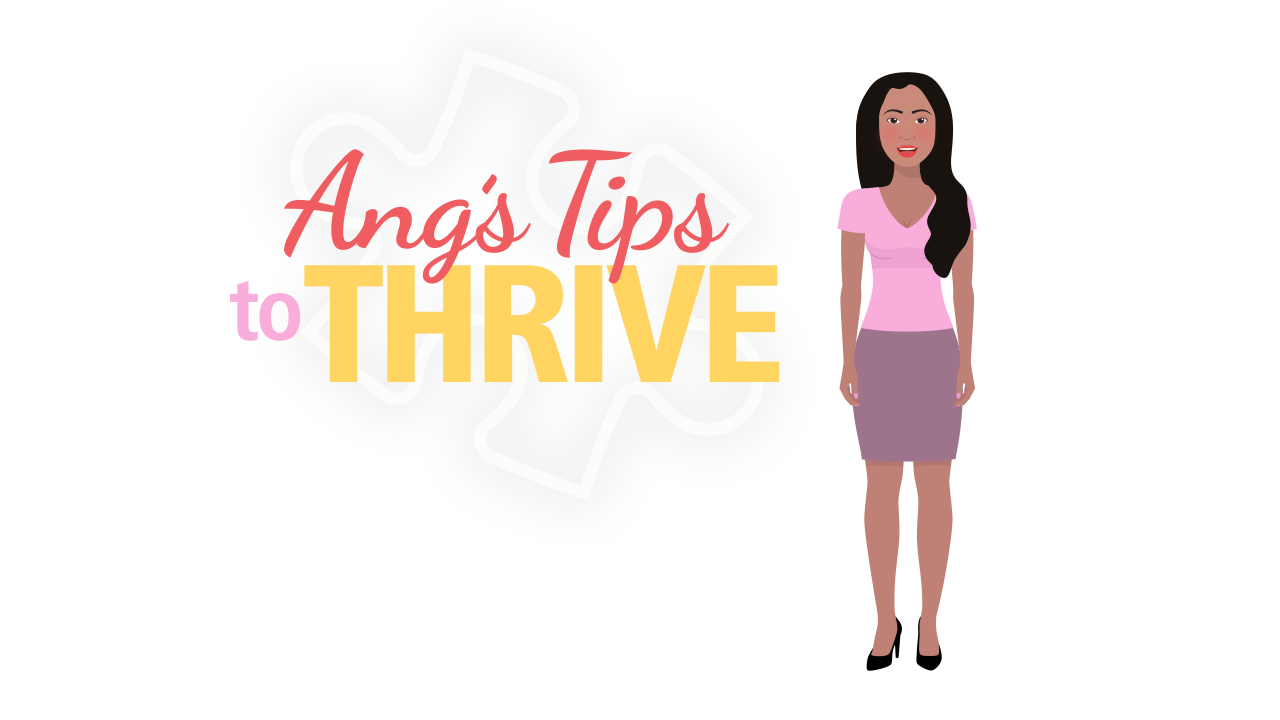 Get More Money and Momentum from Your Marketing! (Priceless)
 If you're looking for quick, proven and actionable tips to help your business thrive, you're in the right place. Sign up today so you don't miss any episodes.


---
Get 100% FREE Help
Is Your Marketing Working?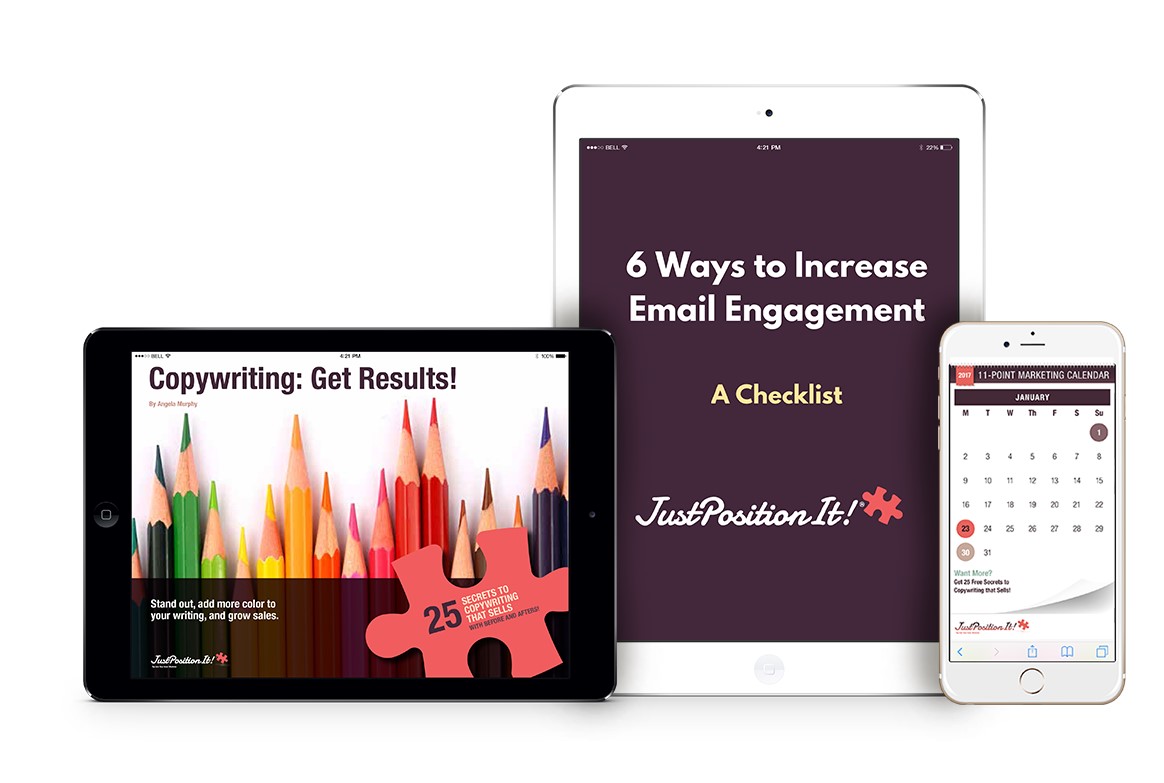 Is Your Marketing Actually Working to Help Build Your Business?
 Get smarter with easily digestible advice, stop losing your best customers, and snag a surprise gift. The right marketing can transform your business. It's 100% free. 

---
Avoid Common Messaging Mistakes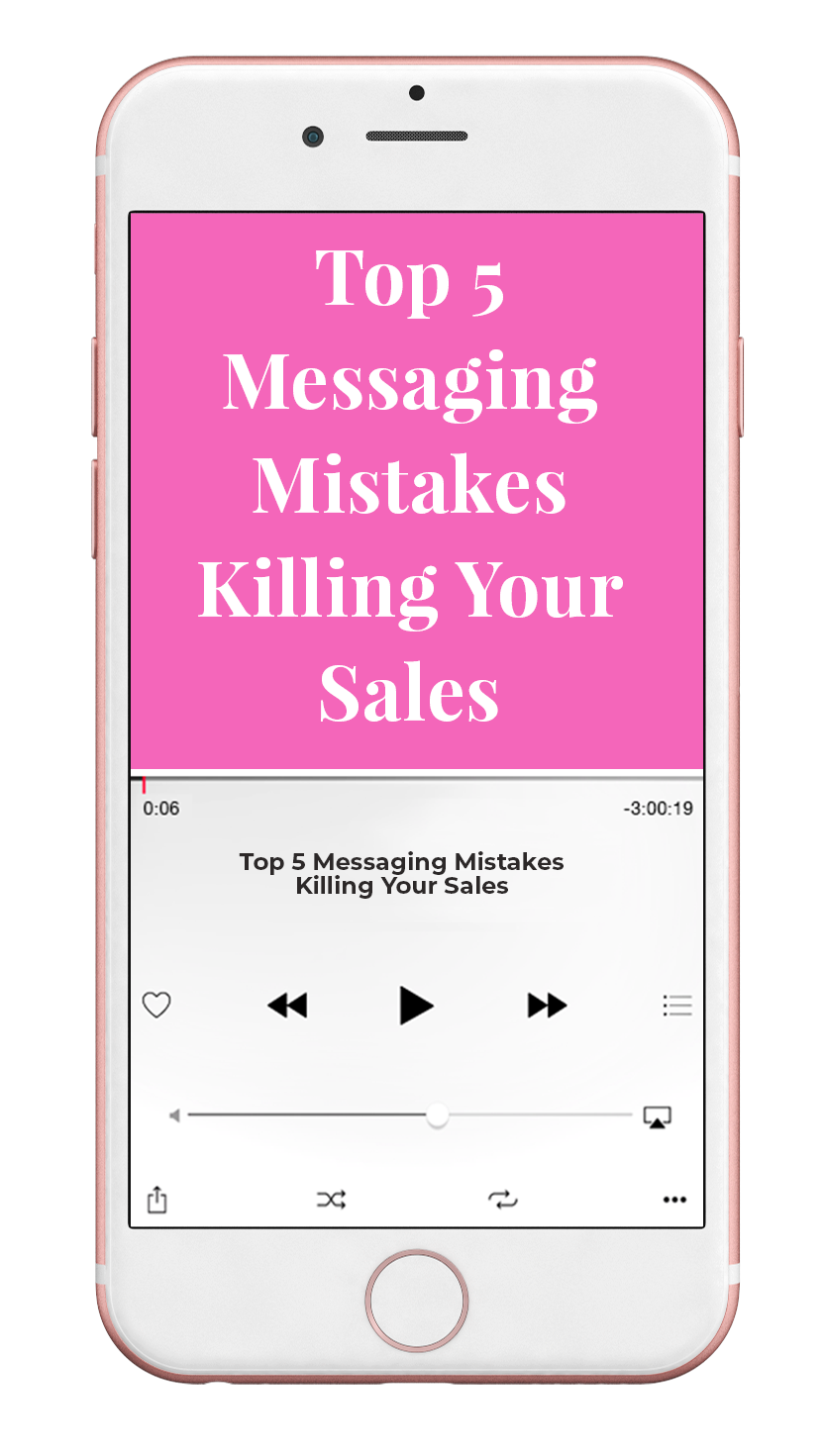 Top 5 Messaging Mistakes Killing Your Sales and How to Avoid Them ($100 value)
Download this audio training that'll give you clear and simple strategies to create messaging to boosts your bottom line. 

---
7 Copywriting Errors Crushing Your Cash Flow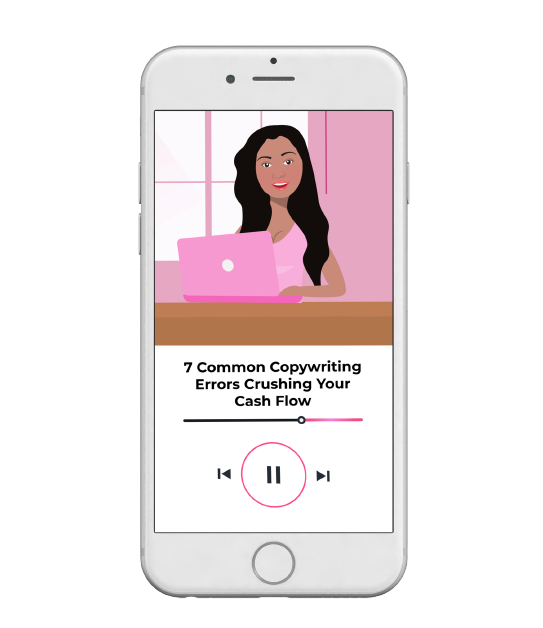 7 Common Copywriting Errors Crushing Your Cash Flow and How to Fix Them ($100 value)
Download this audio training that'll give you real-life before and after examples of what not to do when promoting your products and services.  

---
Craft Marketing Messages that Work Like Magic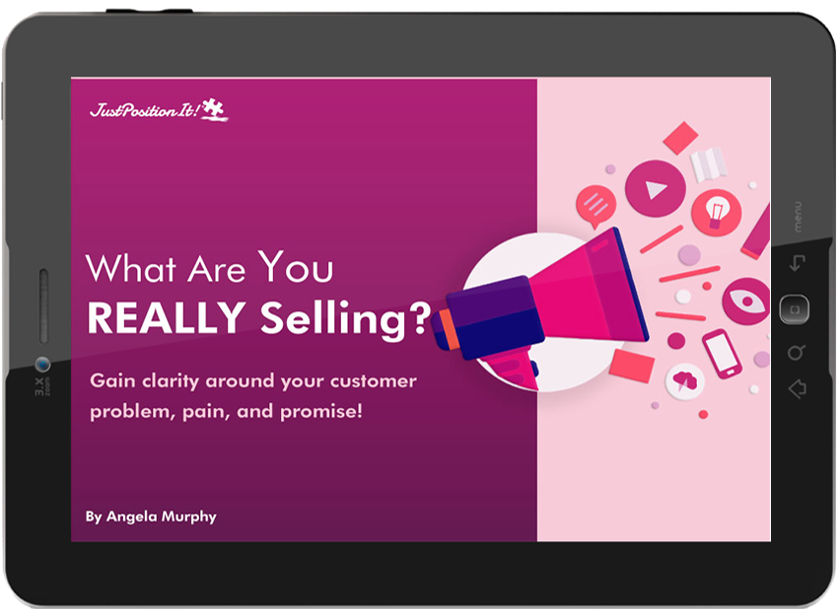 What Are You REALLY Selling? ($100 Value)
Most can't express this clearly, yet it's the ROOT of your marketing message. Find out in 4 EASY steps. 

---
Copywriting that Results in Business Growth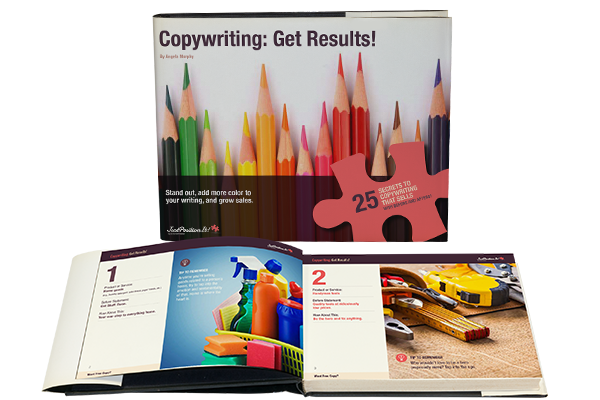 25 Free Secrets to Copywriting that Sells ($100 Value)
Learn the #1 thing you can do with your copy right now to drive more action

---
Get Seen and Heard on Twitter in the Next 30 Days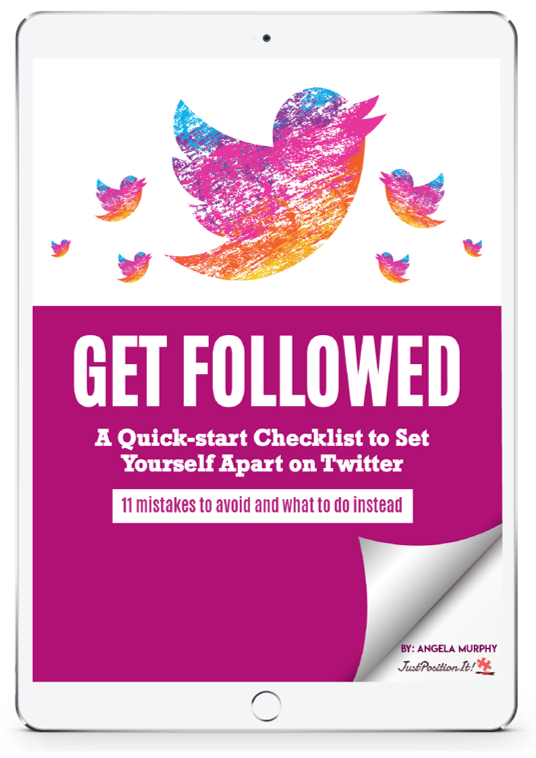 GET FOLLOWED: A Quick-start Checklist to Set Yourself Apart on Twitter ($100 value)
11 mistakes to avoid and what to do instead

---
Make Your Website Sell While You Sleep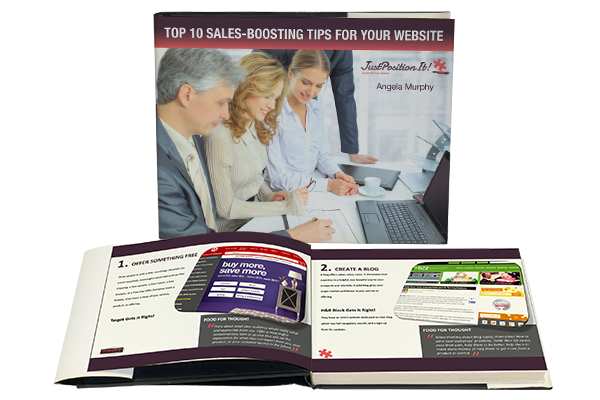 Top 10 Website Lead Generation Strategies ($100 Value)
Get proven sales-boosting tips

---
Strategies to Turn Customer Loyalty from a Wish into a Reality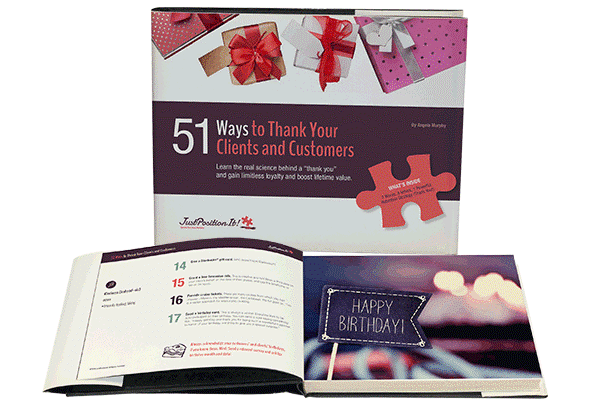 Get 51 Ways to Say Thank You ($100 Value)
Apply the psychology behind a "thank you" and stop leaking customers from your business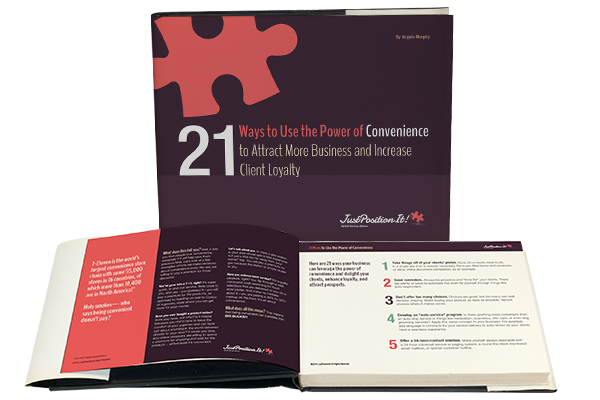 21 Ways to Use the Power of Convenience to Attract Loyal Customers ($100 Value)
Drive more business & profits

---
Lead Generation that Works
Be Smarter About Email Marketing ($75 Value)
Powerful must-haves checklist

---
Marketing Planning and Productivity Tools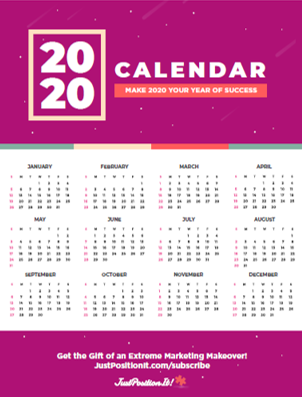 Don't Let 2020 Get Away from You
Keep this 2020 calendar on your desk and plot out your successful year.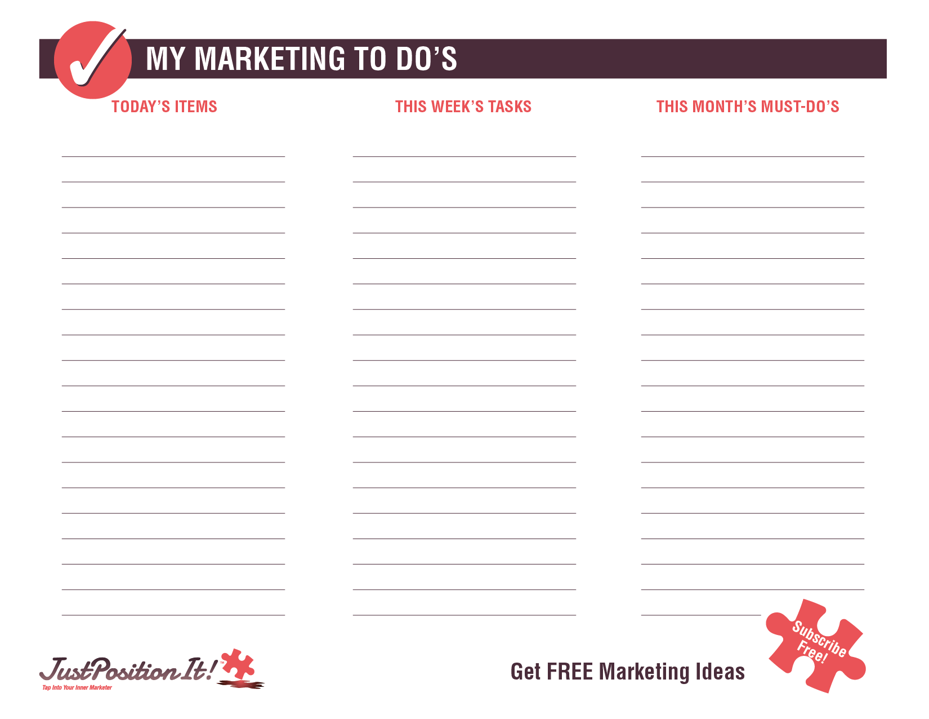 Never Forget A Marketing Action Item Again
Get and stay organized with this simple marketing worksheet
(daily, weekly, and monthly to do's)