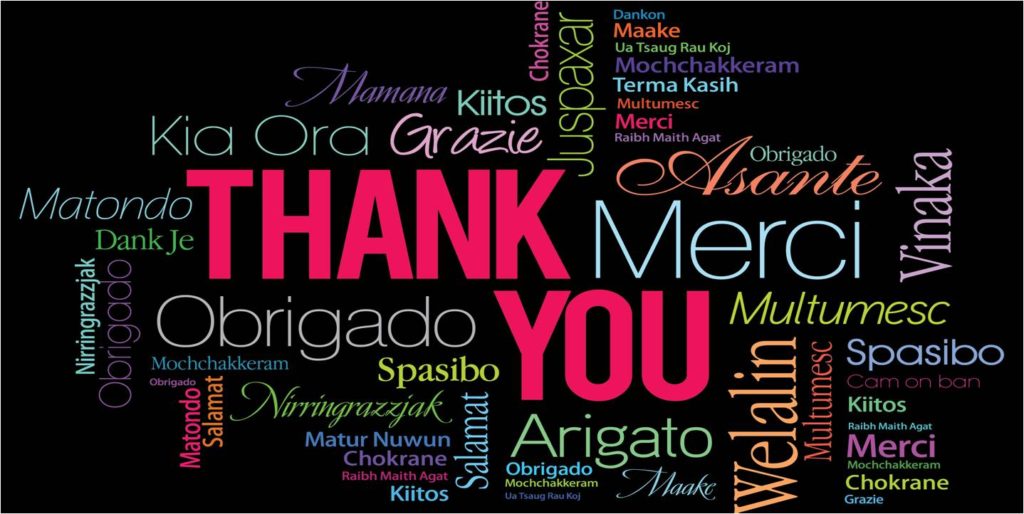 Did you know research shows that when someone receives a thank you they feel higher levels of self-worth?* Imagine what this can do for your customer loyalty!
Is there any better way to say to someone—you mean something to me, you've affected my life in a positive way, you've helped me, you've touched my life, I appreciate what you've done, I have gratitude towards you—than offering a heartfelt thank you?
51 Ways to Skyrocket Customer Loyalty with a Simple "Thank You"
After writing several books including, Copywriting: Get Results!, 21 Ways to Use the Power of Convenience to Attract Loyal Customers, and others, I decided it was time to write a book about the science and secret power behind a 'Thank You'.
Oftentimes, we get so focused on prospecting and bringing in new customers through our virtual and brick and mortar doors, we forget to stop and thank the customers we DO HAVE.
Ponder these statistics for just a second:
Are you convinced now that you need to spend just as much time retaining customers as you do bringing them in?
In my new, free book, 51 Ways to Thank your Clients and Customers, I give creative ways to do just that. The goal here is to make a lasting impression in the minds of your clients, make them feel good about themselves, and ultimately impact loyalty, referrals, and sales.
Here's 11 snippets from the book!
11 Ideas to Thank Your Clients and Customers
Send a simple, hand-written notecard. This is such an underestimated way to say thank you. The recipient always appreciates the actual time that's taken to hand write the note.
Give a spa gift card. Who doesn't love a gift card? They're easy to obtain and deliver, and it demonstrates your understanding that the recipient deserves a break.
Grant a gift basket. This is a wonderful surprise and can work well in the memorability department.
Call out of the clear blue. Calling to simply say thank you is powerful, unexpected, and can work wonders when rectifying a service issue.
Send an email that says, "I'm thinking about you." This quick and simple gesture packs a major goodwill punch.
Deliver a thank you postcard. Aside from the ease of mass distribution, how nice is it to sift through the boring pile of mail and see a huge "Thank You" on an oversized postcard? This will get read and possibly kept.
Invite clients to dinner. If you're trying to develop very close and deep relationships with customers and clients, an offer of a dinner date will do the trick.
Issue theater or movie premier tickets. This is a personal way to say thank you and this gesture can be very well received if you remember client preferences for favorite movie types.
Hold client appreciation events. This is an excellent way to say thank you on a grander scale and get other happy clients in the same room to swap stories.
Give a family getaway or weekend trip for two. For special customers or clients, this would be a welcome thank you gift. And, make certain to gift the accurate count for immediate family members (children included).
Offer art show tickets. If you understand your client's lifestyle, art show tickets are a thoughtful gift.
The Bottom Line
The scientific evidence is clear. The book 51 Ways to Thank your Clients and Customers helps you understand why you should, and how to create the association between your business and feelings of pure bliss.
Don't miss another opportunity to make your clients or customers smile, and turn a simple thank you into more sales, longer client retention, and sustained relationships.
DOWNLOAD THE FULL BOOK BELOW FREE…NO REALLY, FREE.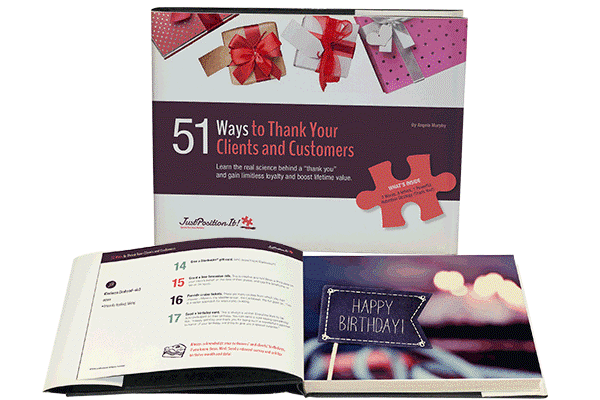 *http://news.harvard.edu/gazette/story/2013/03/the-power-of-thanks/