As a kid, I watched my mom STRUGGLE with all the demands that came with entrepreneurship—and vowed since then to help passionate business owners and corporate leaders tell their stories to the world and grow sales . . . all by using the right WORDS.   
Welcome and thank you for taking a look around the place! I'm Angela Murphy, but please call me Ang. I help entrepreneurs of all sizes streamline your message so that you can attract the right clients and get fully booked.
You're here because you want more. More influence. More business growth. More authentic connections with your ideal clients. Am I right? You're driven and take action when you have a goal to achieve. I see you there. Go-getters don't go it alone; they look for the perfect allies to help them change the world.
If you're ready to touch more hearts and minds with memorable messaging and captivating copywriting, you're in the right place.
The Missing Link 
Are you experiencing any of these challenges?
You've hit a wall with sales and need more customers but don't know what to do to get more.
You want to launch a new product and are overwhelmed with the mounts of copywriting required. Or worse, don't know how to launch online.
When you write, it just doesn't sound like you and you've tried all the templates and nothing is working to move the needle.
You don't know the root problem you solve for clients and wrestle with clearly demonstrating the value of your services.
You find content development mind-numbing.
You need a writer and can't spare the hours and hours to study what works and what doesn't.
Here's the truth. It's not JUST about copywriting. It's about the DREAM that messaging will help you bring to life and make a reality for you. Your message is tied to your purpose and your purpose can touch the lives of millions. Mastering persuasive messaging is the easiest way to get the sales, clients, and revenue you want. –Ang
The Fanfare Messaging Formula™  
Let's be honest. Isn't this what you really want? You want to put a spotlight on your business so you can reach more people and reshape realities. The Fanfare Messaging Formula™ is a proprietary process I've developed over the last decade of working with hundreds of businesses and coaches.
It's a tried and true system that uncovers the real pain your ideal clients experience and helps you clearly convey the relief and transformation you'll bring to their lives. Plus, when we work together, I'll let you in on the 13 things that drive human behavior. Yes, there are only 13.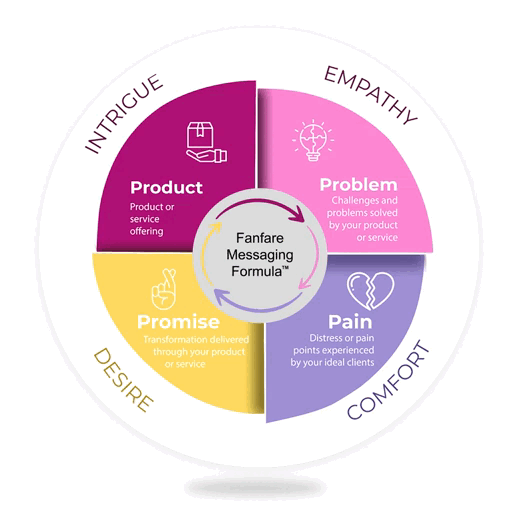 Successful entrepreneurs, personal brands, coaches, and business owners understand that messaging is key. Think about those who have mastered their message. What impact have they made? People like Oprah, Tony Robbins, Richard Branson. They understand messaging principles and the power of words. So do I.
Over 51,541 Businesses Are Benefiting 
I'm delivering ideas to thousands of businesses on attracting customers, keeping customers, lead generation, copywriting, website best practices, and messaging.
Hear what others are saying about me.

What Qualifies Me to Help You?
Named a Top 50 Digital Marketing Twitter Account to Follow in 2022 by the TheOnlineAdvertisingGuide.com! (Follow me here)
History of Entrepreneurship: I'm the by-product of two successful entrepreneur parents. Something's rubbed off.
Hands on Experience: With years of real-world experience, I've lived in the business environment for over 15 years and counting. While there are many coaches and copywriters out there, few truly understand what drives revenue. I fuse creativity and emotion to make your marketing come to life and produce results.
Deep Street Cred: Boy, have I written a few words in my day. The growing portfolio includes, 2,000+ headlines, 80+ video scripts, 1,000+ emails, 30+ catalogs, and 500+ collateral pieces. I love and breathe this stuff. If you want theory and mumbo jumbo, I'm not the one for you. If you want practical knowhow that's helped drive millions in sales working with owners and leaders, I'm your gal.
10X the Industry Chops: When it comes to industry experience, you're in good hands. I've worked in no less than 10 industries: real estate, financial services, not-for-profit, retail, education, toys, software, manufacturing, skin care and beauty, and health and nutritional supplements. Whew, that's a lot, right?
Training: I walk my talk. How can I ask you to let me coach you, if I don't receive coaching? I invest thousands and thousands of dollars into learning from top marketing and online business leaders so I can pass the knowledge over to you.
Certification: I'm a Certified Conversion Copywriter. Click on the pink couch below to learn more. 👇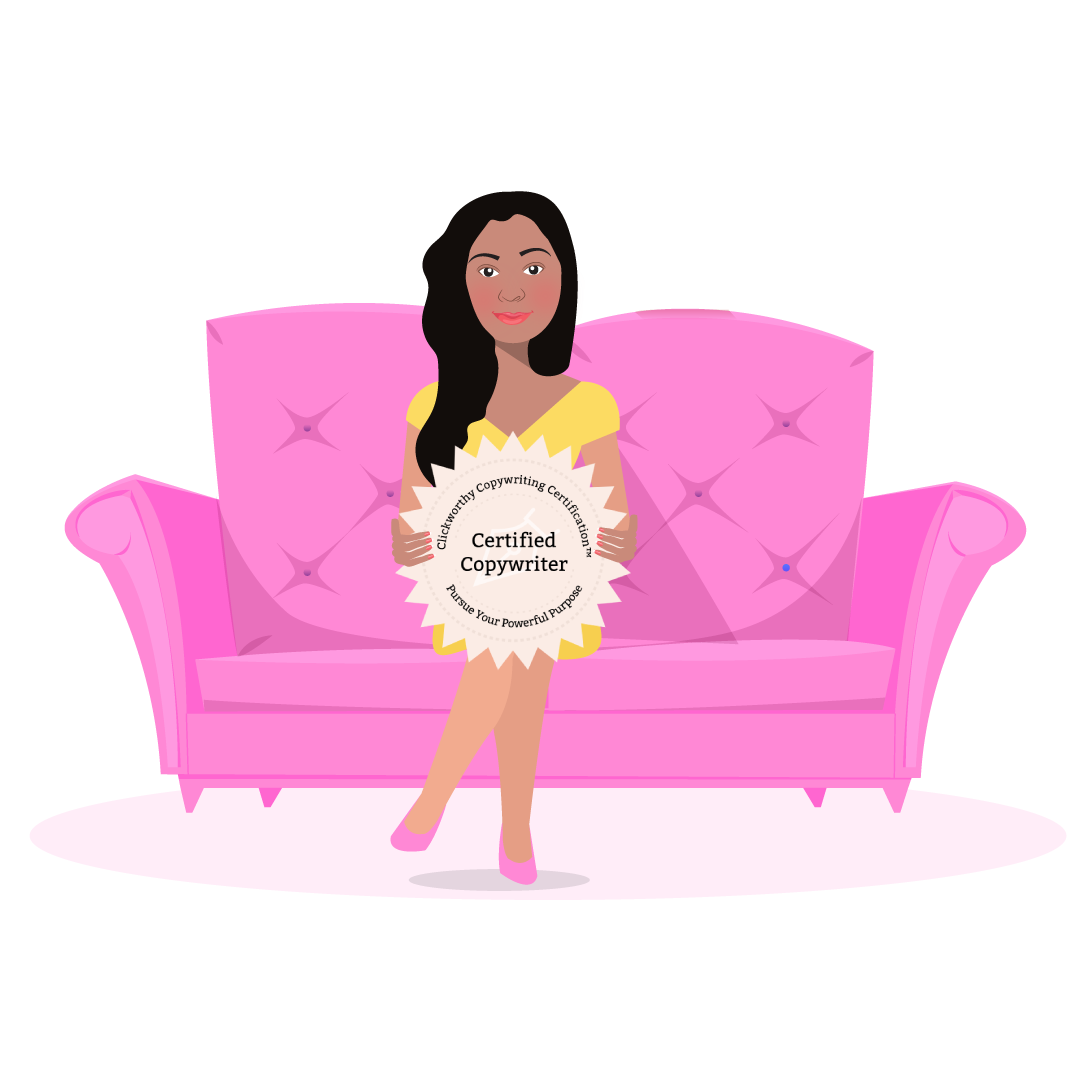 What I Write 
Say goodbye to your copy chaos. Let me manage these for you.
| Digital Assets | Brand Assets | Corporate Assets |
| --- | --- | --- |
| Email sequences (nurture and evergreen) | Branded processes and signature systems | Speeches |
| Websites | Course and program names | Brochures |
| Sales pages | Product and brand names | Proposals |
| Facebook & Instagram ads | Product descriptions | Presentations and Investor Pitch Decks |
| Video scripts | Webinar scripts | Biographies |
| Podcast pitches | Launch plans | Marketing plans |
Need something not on the list? Schedule a discovery call. [Start here]
Totally Random Fun Facts About Me
I'm a USC grad. Go Trojans!!!
I love to write—give me a blank piece of paper and I'm in heaven.
I'm an only child. Don't hold this one against me. The alone time really helped me tap into the power of what written words can do for sales.
I love swimming. I'll stay in all day if you let me.
I'm a Gemini. Don't hold that one against me either. I have two personalities, one for marketing, and the other for sales. 🙂
I used to model at Barbizon. Don't laugh at that one.
In college I worked as a telemarketer. Don't vomit.
I love music. Don't you?
I like to dance. Like all night.
I love snuggling on the couch with a good book. On marketing of course! What else is there?
I love all animals. Especially dogs.
I'm addicted to marketing. I must confess.
I had the pleasure and luck of being born to a BADASS, entrepreneur dad! His sales genius and influence have allowed me to be here to serve you.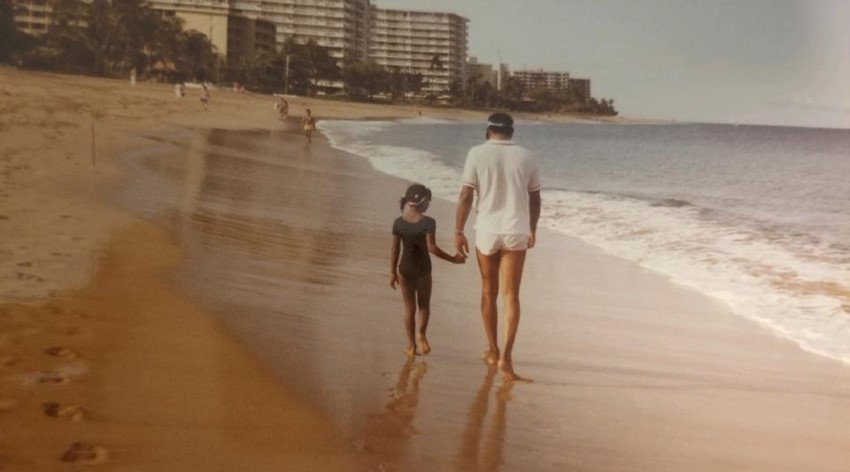 Ready to Pack More Persuasive Punch to Your Messaging?