? Get a FREE Valentine's Day Sweethearts' Session! ?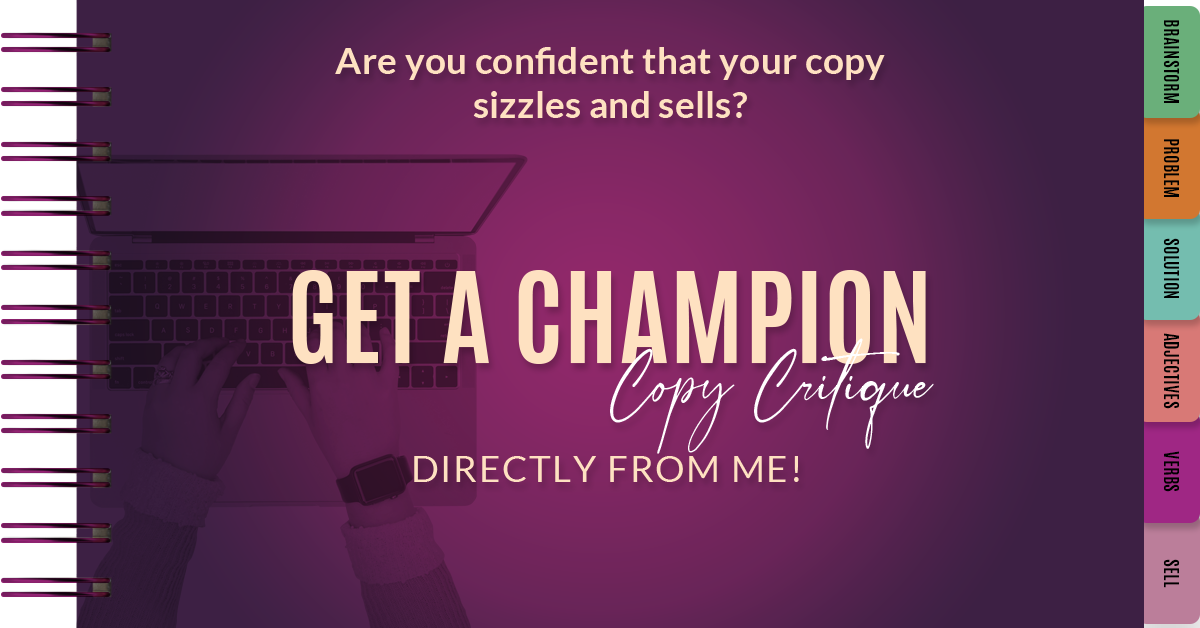 Champion Copy Critique
Could you use another pair of eyes on your copywriting before you publish, print, or postage? You're here for a reason. You need some help, and it's ok. Get your copy clarified so it can bring in the cha-ching.
"Copywriting is the lifeblood of your messaging, your messaging is the lifeblood of your brand, and your brand is the lifeblood of your business."
What you say and the WORDS and POSITIONING you use can be the difference between a lightning bolt and a lightning bug. Your messaging will either attract a bunch of looky-loos and tire-kickers, or a group of dedicated, motivated, on-fire, committed clients.
That's Where I Come In
Do you need to do a better job with your copywriting but just don't have the hours to study what works and what doesn't? Is a little voice inside nagging at you to gut check your drafts because you aren't sure if they're as strong and effective as they can be?
Totally get it. Why fumble your way through writing only to have your message fall flat when you can hand it over to a pro, get another pair of eyes on your project, and feel champion confident?
If you need help with any of these, I've got you covered:
Brochures
Flyers
Sales or landing pages
Postcards
Advertisements
Email funnels
Letters
Website copy
What You Get
Champion Copy Critique services include an objective review of your content and you'll get a written summary that examines your copy in detail.
I'll tell you what's working well, what's not working so well, and what should be revised. Keep in mind, I won't completely write or rewrite content for you, but I will review your messaging strategy, copy, positioning, offer, and give you copy points as I see you need them. If you need more support, you can request a copywriting quote or schedule a discovery call.
When people hire me for copy critiques, I do four specific things: ??
Zero-in on whether your copy is speaking to the intended target audience and addressing their pain points.
See if what you're offering is clear, confusing, or uses industry jargon.
Determine ways to make your argument or position stronger.
Check for grammar errors and spelling faux pas.
Results You Can Expect
You can rest assured that your Champion Copy Critique will be custom-tailored, and we'll determine if your copy:
Stops a reader in their tracks.
Is believable enough.
Flows in a linear fashion that's understandable by a reader.
Contains a CTA (call to action) that's clear enough to encourage an action.
4 Reasons to Get a Champion Copy Critique
In all my years of writing and editing copy for clients, there are four primary reasons you request help from me:
No time: You're busy running a business or trying to change the world and spending time on picking the right words or headline has NO appeal to you.
Too close to your product or service: When you're passionate about a product or service you can lose objectivity. And it's not your fault. There's a phrase my dad used to tell me all the time, and that was, make sure you keep things in perspective and always be able to see the forest from the trees. I'll take a step all the way back to make sure we don't miss any glaring gaps, omissions, or unnecessary fluff in your copy.
No experience or interest: Listen, I'll be the first to admit, copywriting is NOT for everyone nor is it supposed to be. Just like you may have no interest in analyzing seashell patterns, you also might have ZERO interest in writing copy.
A second opinion: You simply want a second opinion. ?
Your Biz-Boosting Bonus
You'll get a completely free messaging guide, just for booking your call.
Your messaging guide will help you:
Craft marketing messages that work like magic in 4 SIMPLE steps!
Get crystal clear on your customer transformation.
Uncover the true drivers of purchase decisions around what people REALLY buy to solve their problems.
Stop struggling to tell customers the result your product will give.
Discover an easy framework to nail your customer promise in 7 words or less.
So, Who the Heck Am I and Why Should You Care?
Hi, I'm Angela, but my friends call me Ang.
Here's what I can do for YOU.
I've worked with over 100 businesses in the past 10+ years on their copywriting, messaging, and marketing strategy, so I truly understand how your messaging boosts revenue. If you want practical knowhow that's helped drive millions in sales working with owners and leaders, I'm your gal.
You've got choices, so just remember these two things about me:
10X the Industry Chops: When it comes to industry experience, you're in good hands. I've been the mastermind behind the messaging in no fewer than 10 industries: coaching, real estate, financial services, not-for-profit, retail, education, toys, software, manufacturing, skin care and beauty, and health and nutritional supplements.
Training: I walk my talk. How can I ask you to let me coach you, if I don't receive coaching myself? I invest thousands and thousands of dollars into learning from top marketing, copywriting, and online business leaders so I can pass the knowledge over to you.
Product Details
Length of Content Reviews: No more than 10 pages
Reviewer: Angela Murphy
Call Software: Zoom or Join.me
Language: English
Reviews
"Angela helped me realize where I may accidentally have been turning potential buyers off, when I actually thought I was wording things the "way I was supposed to". Her live feedback and her changes helped me understand concepts that I could immediately use on other parts of my website and emails as well. All I was expecting was to get some better copy – which I absolutely received. But what I wasn't expecting was to be able to use her feedback to learn and grow and be applicable even in conversations with potential clients!"
Dr. Andrea Moore, Owner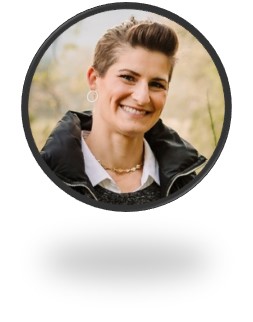 "Your copy review was just the bomb. My web copy reads so much better. I had been struggling with this for ages and you cut through the fluff and got straight to the point. It sounds super professional now, without any business BS and still – it sounds like me! I've been complimented already how well it reads – and how compelling it makes my membership offer!"
Miriam Gilbert, Founder and CEO ImpactfulnessLab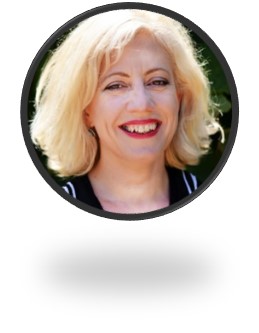 "Ang understands that words can be powerful! She helps you use the right words to evoke emotion, tell an enticing story, and sell."
Alba Adrian, Marketing Director, USC Marshall School of Business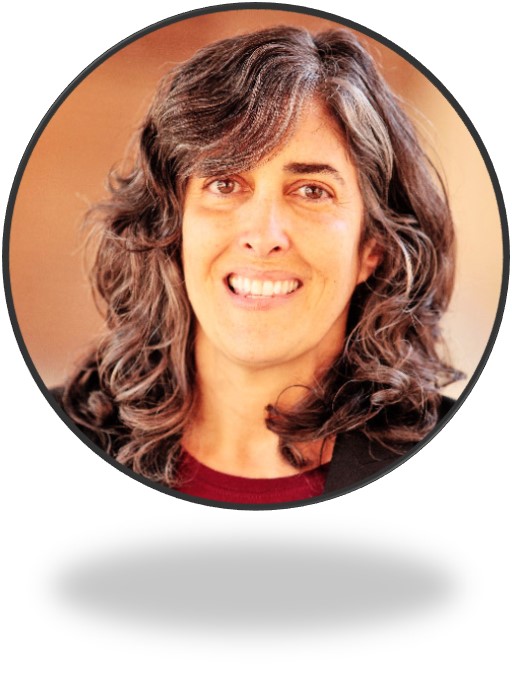 "Angela cuts through all the marketing chatter to get right to business; directing the right message, to the right person at just the right time."
David Pierson, Director of Marketing and Sales, Helicopter Association International